I wanted a universal setup but this setup is more of a one off setup because I enclosed the camera in a project box for a clean appearance. I might try suing it on a Roland 1.0 kind of setup.
And how much do I have in this setup? Honestly it went a little higher than I wanted but I have less than $130 in the entire setup.
I started with this board camera:
http://www.aliexpress.com/snapshot/6006732453.html
http://www.aliexpress.com/item/NTSC-1-3 ... 78504.html
You will notice a screen on the front of the lens, that is the IR filter and the manufacturer will remove that for you when you order, just send them a message. This one has the On Screen Display that allows you to make adjustments to the camera.
And because light gathering is the priority I decided to upgrade from a standard lens to a CS lens. The CS lens is larger lens so it allows more light through. The seller also sells the CS mount and the correct 16mm lens for use behind a scope.
http://www.aliexpress.com/snapshot/6006732455.html
Here is what must be modded to the camera case, thanks Chalum for the pictures.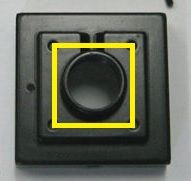 And here is how the camera will basically look inside the ring.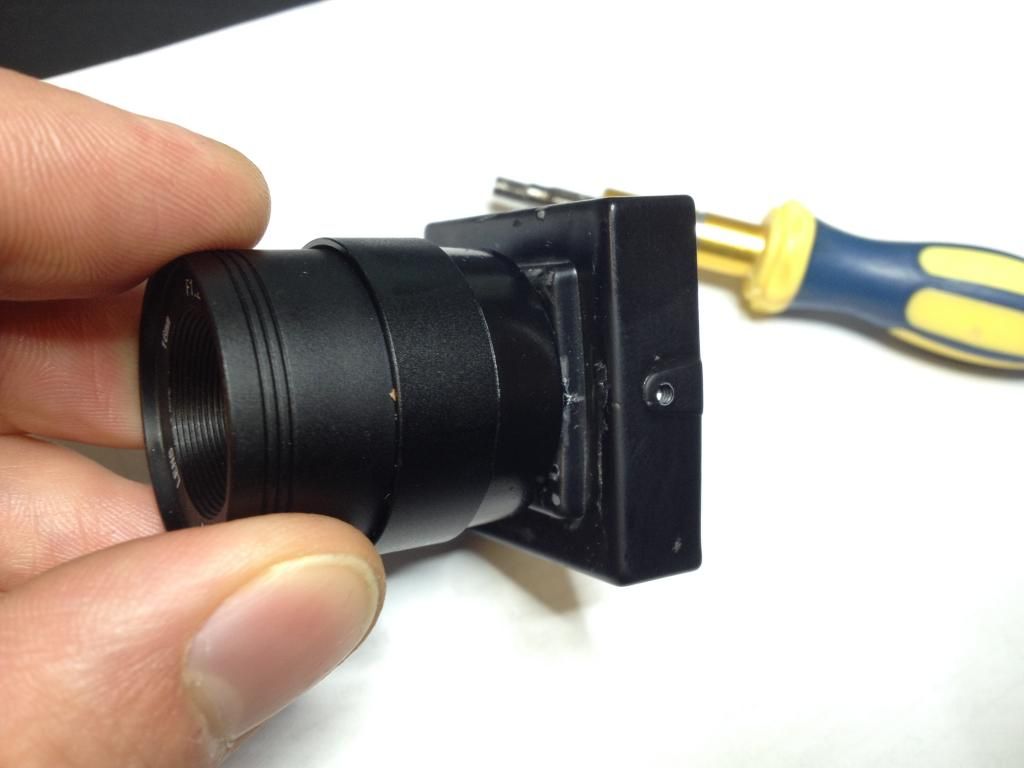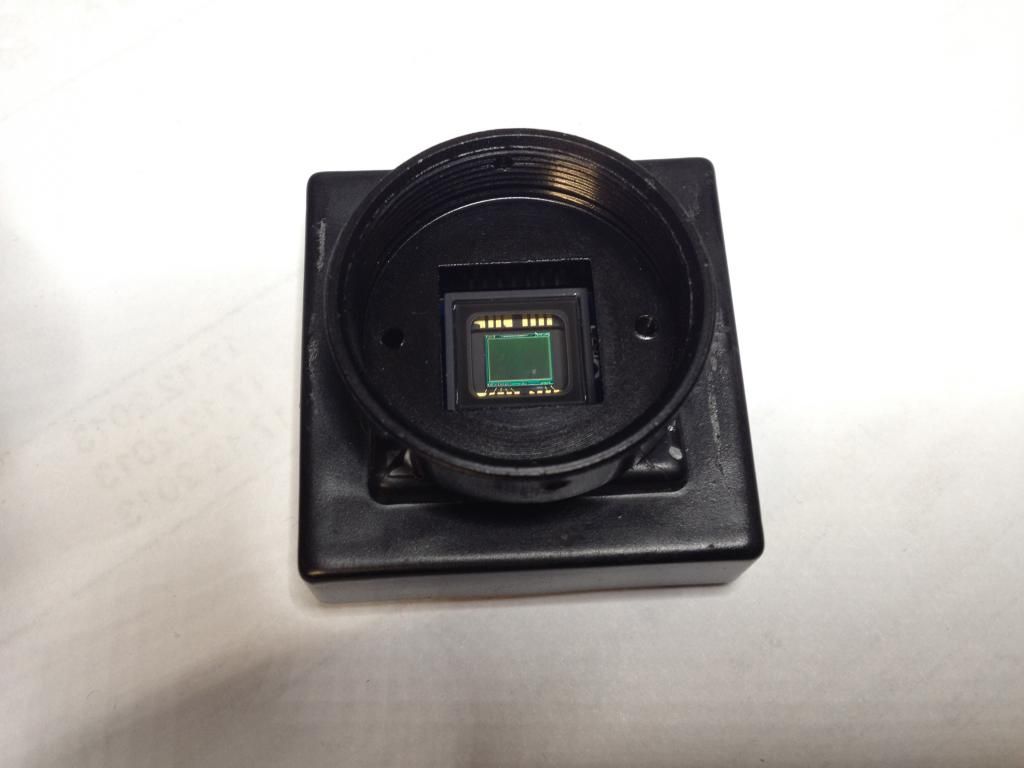 And because I have the ability to change settings I must have the OSD cable. This is the one that I bought and it works great. If you notice the pictures below you will see how it is wired into the plug because it does not come wired. If you need close up pictures let me know.
http://www.aliexpress.com/snapshot/6006732456.html
The housing I bought was actually recommended by Chalum but that one is too shallow for the board. It was not deep enough for the board above so I had to drill a clearance hole for a diode, see pictures below. I think this is the correct housing or at least it is deeper than the one I bought.
http://www.aliexpress.com/item/Indoor-M ... 36035.html
And because I knew I would eventaully not have to use the OSD cable I ordered these. It allows me to power the board and send the video single without all the extra wires of the OSD cable.
http://www.aliexpress.com/snapshot/6006732457.html
Now we need a way to power everything. For that you need a 12V DC battery. I ordered one that is way too big for my needs but it should have run times measured in days rather than hours. I ordered this one.
http://www.aliexpress.com/item/6800mAh- ... 84329.html
In the pictures I have a AA battery case until my battery pack comes in. When it does I will epoxy a rail mount to it so I can attach and detach it easily. And with 6800 mAh I should have some pretty decent run times.
I ordered a 3.5" TFT screen like this one.
http://www.ebay.com/itm/3-5-Digital-TFT ... 257f7d134f
It was cheaper on Ebay so I ordered from there.
And finally I needed a cable to power everything up. And Ebay provided this as well.
http://www.ebay.com/itm/390576798464?_t ... EBIDX%3AIT
Now that we have all the parts assembled how do we mount it? Because the camera needs to be centered in the scope I used the scope rings that were the same height for the scope as well as the camera. The camera itself is 30mm so you need rings that support 30mm and the scope which for me was 1". And athough it is not in the pictures these are the ones I ordered. I ordered two sets, two rings for the scope and one ring for the camera.
http://www.ebay.com/itm/141172611188?ss ... 1439.l2649
I also bought a IR bulb for my Surefire. It works great and gives a fair amount of IR light out to about 100 yards.
http://www.ebay.com/itm/850nm-CREE-IR-L ... 2a3525c692
This is the only weak spot with this setup if there is a week spot.
Because the camera needs to be about 2" behind the scope you may have to move your scope forward. Or another way to do it is to use a seperate picatinny rail that goes from a single ring installed at 270 degrees on the scope to the scope at the rear. Here is a good video showing the setup:
http://www.youtube.com/watch?v=4wnNFR99xGI
I wanted mine to be more permanent for now and although I can use the method above I plan on making another NV setup that will be able to be moved from gun to gun.
I mounted the camera in a "project box" from Radio Shack. It cost something like $4. I also added a 5.5mmx2.1mm femal plug to get power into the box. The plug was like $3
So here are some pictures of my setup:
I do not have my dedicated battery pack yet so this is just a pack that uses either AA batteries.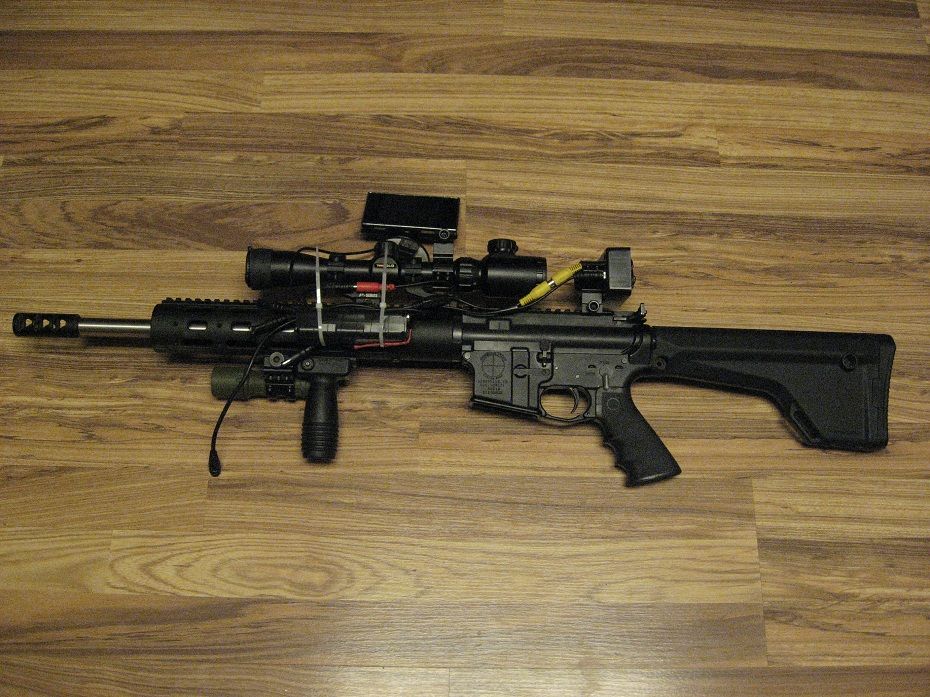 I am also going to go with a Y cable rather than a 4 in 1.
Here is the camera installed in a "project box" to protect it some. The bottom plug is the video and power. The empty plug on the left is for the OSD. I just need to plug in the OSD cable to make adjustments to the camera. The plug is from Radio Shack to supply power and I cut a RCA cable in half and passed it through the glued it in place. I also glued the camera in place. And all I need to do is remove the back cover to make OSD adjustments.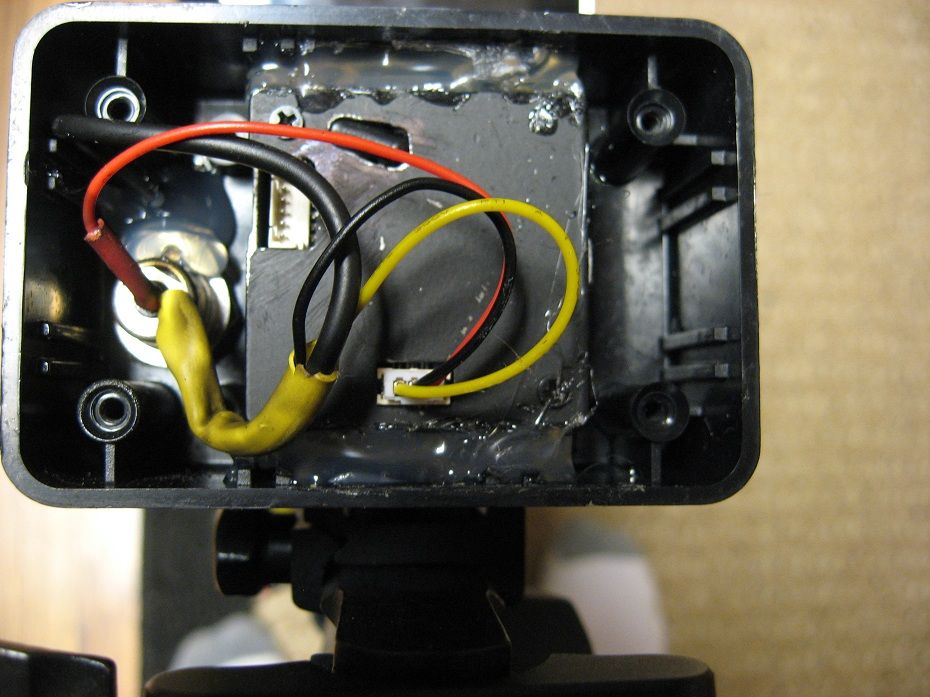 Here is the front side of the "Project box" with all the connections as well as the camea passing through. The accordian looking thing is an eyepiece you can buy off of Ebay. I use it to keep the light from the screen from entering the camera.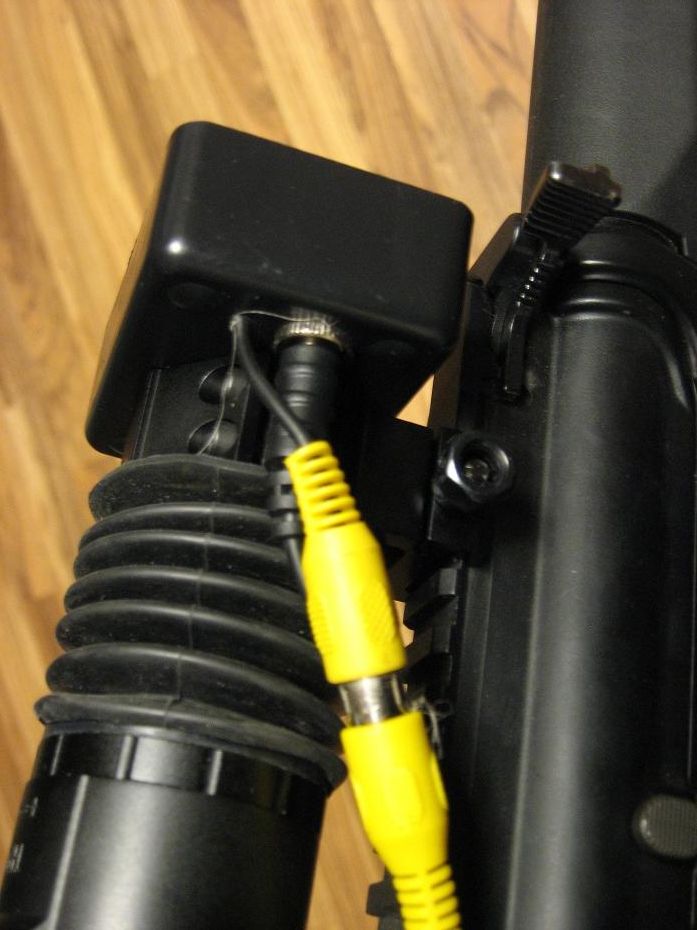 And here it is what it looks like all buttoned up.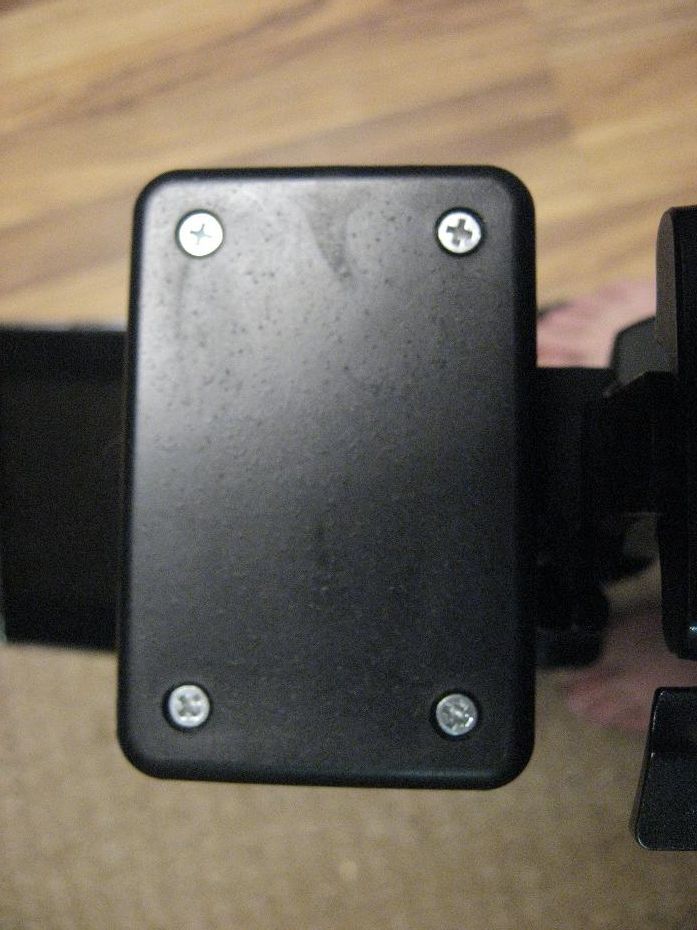 So how well does it work? Let me start by saying that the screen shots do not do it justice. It is extremely clear but when you try to take a picture of a digital device when using a digital device it never looks all that great. In real life it is amazing and I can honestly say that with illumination this is comaprable to any GEN2 NV I have used. Without illumination it is still better than any GEN1 I have ever used.
Here is how the reticle looks throught he camera. You use your scope to zero so all the adjustments are the same, you are just looking at a screen rather then through and objective.
Here is a picture of my neighbors house 100 yards away as seen with your naked eye. Can't make out any details or anythign really.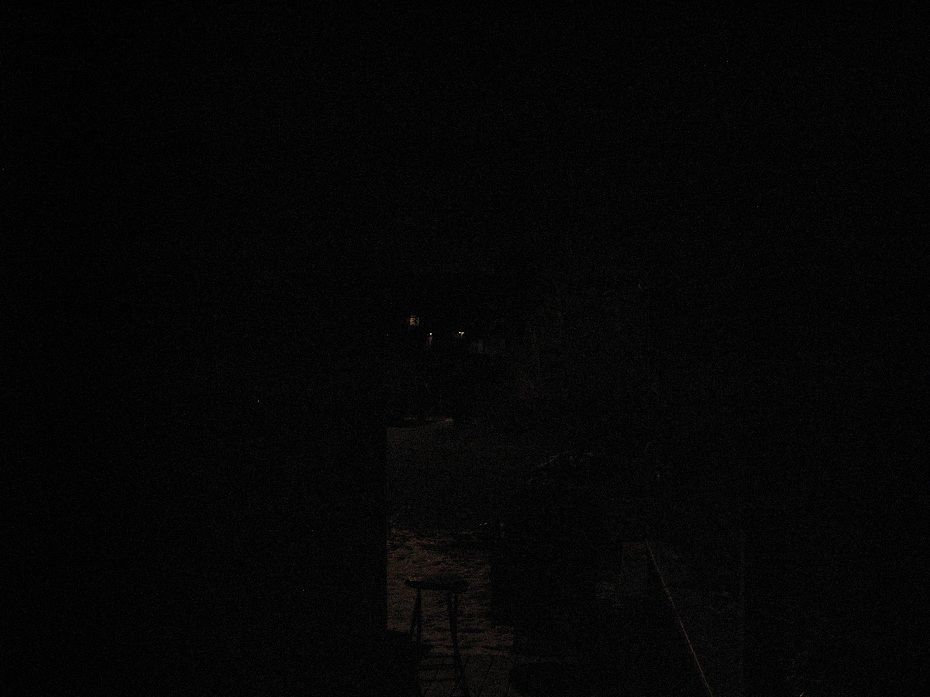 And here is the same view through the DIY night vision. The house is being flooded out by the ambient light.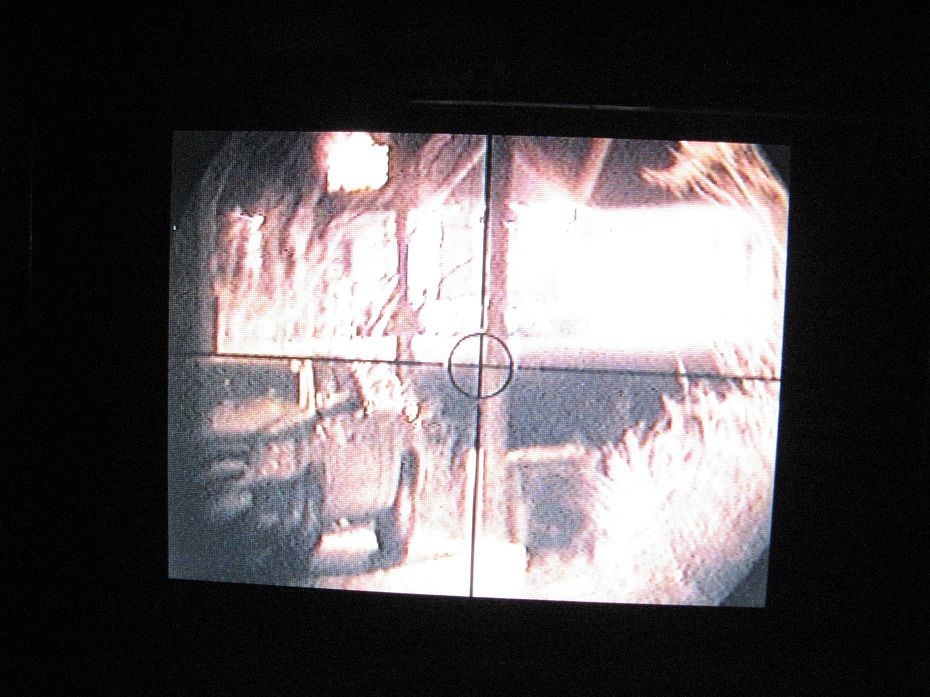 Again the quality sucks because of the camera but you can see all the light the camera is picking up. And this is without the scope setup to run night vision only. It can be used at day or at night. I could have got it much brighter had I set it up for night only. And this is without any weapon mounted illumination.
And here is in total darkness with an IR bulb in a Surefire. The distance to the target is 25 yards.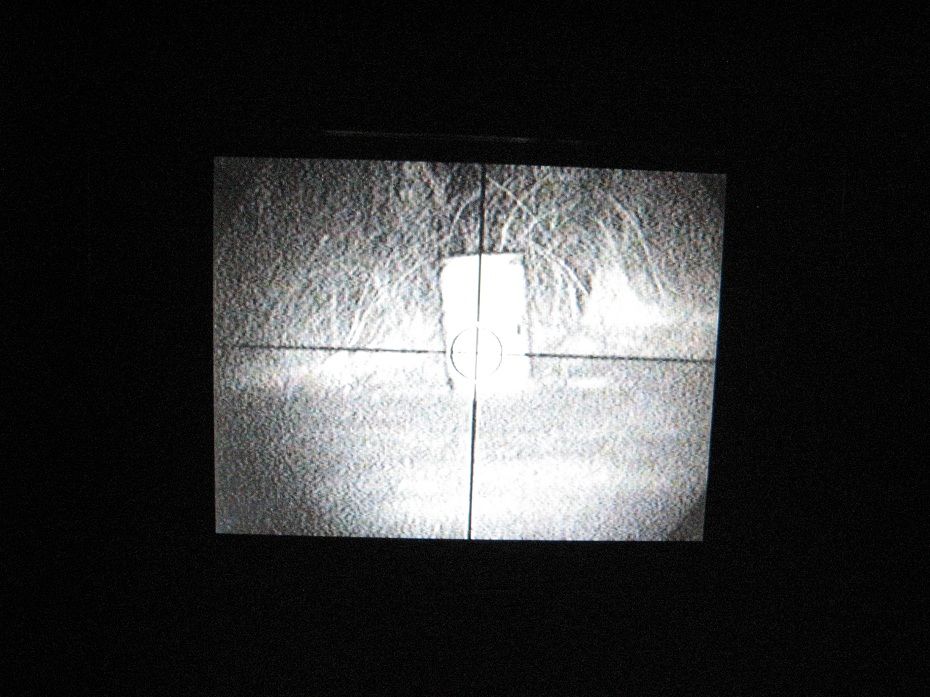 I am sure i am missing a bunch of stuff but I will add as I remember.
I will post another parts list as soon as I order another setup and that will happen when the Chinese New Year is over in a few weeks. I am going to talk to the supplier to see if they can setup a DIY kit where the camera can be bought with the correct case, lens, OSD cable, screen, battery and cables. If they can then it will be so easy to setup.
I am going to be ordering a few more setups to try to figure out an easy way to duplicate this easily for those who, like me, are technologically handicapped.
Ask any questions you might have.
I do want to add a big thanks to Chalum. Without his help it would not have been as easy or as nice.
BTW, the total cost was under $120.