Parts finally arrived so i managed to get my spotter finished tonight. My plan was to build an all in one spotter that was small enough to hang round my neck or go in my pocket as I'm currently spotting with my scopeless rig, which is hard work and not ideal. It uses 2 18650 ex-laptop batteries (to which I added a protection circuit) to power a Exview mini bullet cam, CRT viewfinder and T20 - haven't tested the run time but I'm hoping for at least an hour.
This is it with a cheap 5-60 mm lens - it is small but won't let me see much without illumination.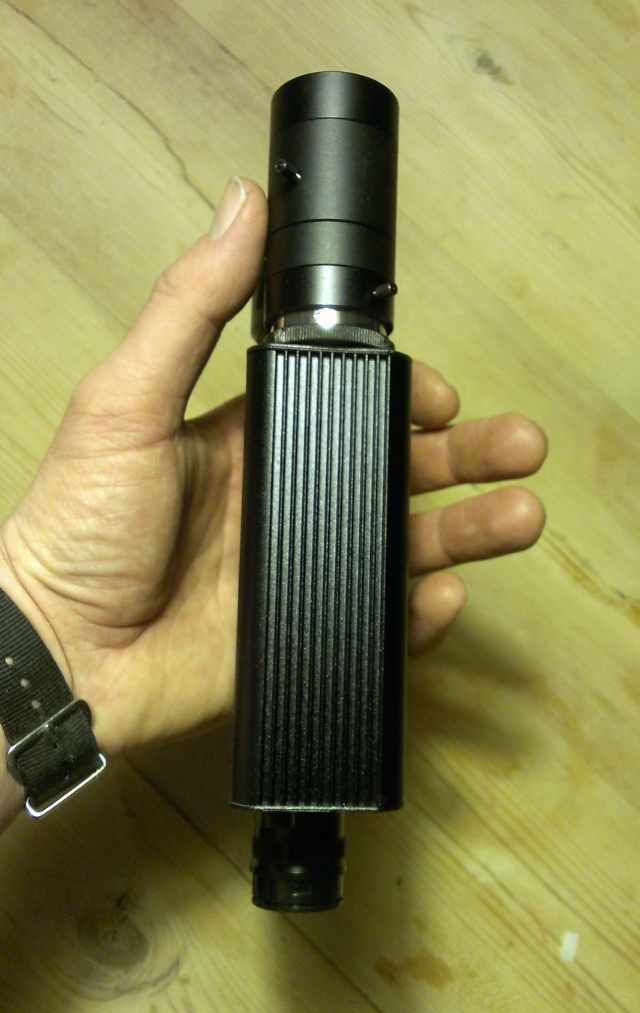 And this is it with a really nice Fujinon 50mm f1.4 that I got from Torchwood. I spent ages filing and adjusting so I could get this lens to fit as it is amazing in low light (no moon tonight and only starlight but I can make out my fence 40 yards away). I managed to get it on with 0.5 mm gap between lens and T20 but it is rather heavy so I will take it out a few times and see how I get on.
There is no spare room inside so I couldn't quite fit an av out socket but I have one on my scopeless unit so not that important. There are 2 buttons, one for power and the other for the T20 and I drilled a couple of holes in the side to access the vewfinder brightness and focus adjusters.
Things never go quite to plan but I am a bit peeved that the T20 appears to cause interference with the viewfinder when it is on low power, it is better with medium power but totally gone on full power. I will have to live with full power which is a shame as I wanted to use lesss illumination to save battery and remain more covert. Appart from the interference it is brilliant and well worth the effort, although a spotter with a separate torch could easily be made to fit a 40 x40x100 mm project box..........
Total build cost was just over £90.